This event has already occurred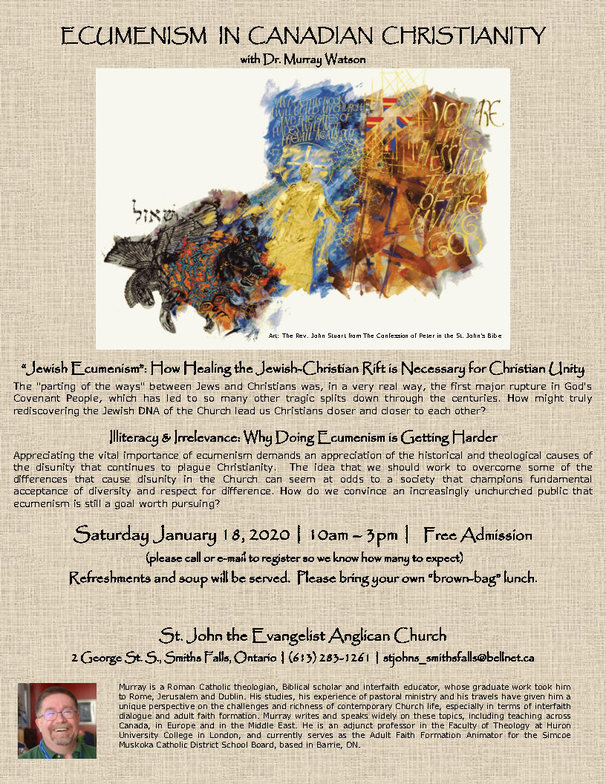 Save to your Calendar
Free Admission
Please call or e-mail to register so we know how many to expect (613-283-1261, [email protected])
Refreshments and soup will be served. Please bring your own "brown-bag" lunch.
"Jewish Ecumenism": How Healing the Jewish-Christian Rift is Necessary for Christian Unity
The "parting of the way" between Jews and Christians was, in a very real way, the first major rupture in God's Covenant People, which has led to so many other tragic splits down through the centuries. How might truly rediscovering the Jewish DNA of the Church lead us Christians closer and closer to each other?
Illiteracy & Irrelevance: Why Doing Ecumenism is Getting Harder
Appreciating the vital importance of ecumenism demands an appreciation of the historical and theological causes of the disunity that continues to plague Christianity. The idea that we should work to overcome some of the differences that cause disunity in the Church can seem at odds to a society that champions fundamental acceptance of diversity and respect for difference. How do we convince an increasingly unchurched public that ecumenism is still a goal worth pursuing?
Murray is a Roman Catholic theologian, Biblical scholar and interfaith educator, whose graduate work took him to Rome, Jerusalem and Dublin. His studies, his experience of pastoral ministry and his travels have given him a unique perspective on the challenges and richness of contemporary Church life, especially in terms of interfaith dialogue and adult faith formation. Murray writes and speaks widely on these topics, including teaching across Canada, in Europe and in the Middle East. He is an adjunct professor in the Faculty of Theology at Huron University College in London, and currently serves as the Adult Faith Formation Animator for the Simcoe Muskoka Catholic District School Board, based in Barrie, ON.